Manage episode 281312323 series 2824195
Welcome to Episode #92 of the Fight for a Happy Life podcast, "Shouting at the Moon."
Stress is a part of life… especially this year! The challenge—if we want to maximize our health and happiness—is to find effective ways to face and manage that stress.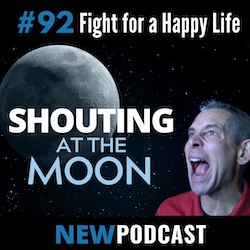 Is martial arts training one way to do that? Absolutely! But there's another exercise that I discovered by accident back in my teenage years… a simple, but powerful exercise that I still practice to this day.
In this episode, I'll share that experience and detail the four life-changing lessons it taught me. You can watch the video, listen to the audio, or scroll down for the Cheat Sheet.

To LISTEN to "Shouting at the Moon," you can either:
To WATCH the video version, or READ a short summary, scroll down below.
If you'd like to support this show, share the link with a friend or leave a quick review over on iTunes. Thank you!
Oh—and don't forget to sign up for free email updates so you can get new shows sent to your inbox the minute they're released.
Thanks for listening! Keep fighting for a happy life!
Shouting at the Moon
Here's the video! If it won't play, try this direct link.
As always, if you'd like to keep the conversation going, feel free to leave a comment here or through my Contact Page.
Cheat Sheet
When I was young man, I often felt alone, insecure, and frustrated. To combat the uncertainty of life, I sought to control what I could—starting with my body. That's what led me to pursue the martial arts.
Without a car or access to a school, I usually ended up training on my own… and usually at night… shouting at the moon. Once I had burned up all of my teen angst, I would then find myself lying on the ground… staring at the moon.
That time on the ground changed my life. Here are four lessons I learned in the moonlight…
LESSON #1: Silence. Once we turn off the noise of the outside world, we can tune into the inside world. Quiet time is quality time! Let there be no such thing as "awkward silence" in your life… only comfortable silence.
Sitting in silence allows a release of tension, which leads to a sense of equilibrium between you and the environment. Seek to fill your inner space and connect it to outer space.
LESSON #2: Motion. Once we stop running around from task to task, we can find stillness. While stillness may provide some calm, it is not lasting… because it is an illusion!
Staring at the moon will reveal that the world is always in motion… and so are you. Your heart beats and your blood flows just as surely as the earth spins and the planets circle the sun.
You are not stuck. You are not frozen. Instead of focusing on the splashing of the waves, go deep and ride the undercurrents.
LESSON #3: Darkness. As children, we are afraid of the dark and imagine monsters under the bed. As adults, we fear the unknown and can easily imagine the worst in others and ourselves.
When you lie on the dark under the moon, you realize that you are part of the darkness… and darkness is part of you. You realize that YOU can be the monster under the bed… if you choose to be.
So, don't fear the dark. Accept it and feel the power to face the unknown.
LESSON #4: Belonging. It can be stressful when you feel you don't "fit in" with your family, friends, religion, or country. Yet, you are always at home in the universe.
You were born here. You belong here. Remember that and you will always find a sense of peace… which will lead you to to finding your purpose.
Ultimately, you won't need to look up at the moon and the stars for inspiration or comfort… you can simply look inside. That's where you will see that you are a star… and understand that you always have the power to shine through the darkness.
Keep shining, my friend!
The post #92: Shouting at the Moon [Video + Podcast] appeared first on Sensei Ando.
93集单集